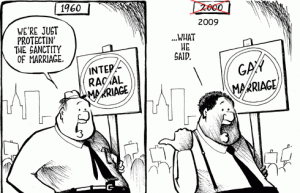 The ground being gained in the fight for mar­riage equal­ity since the Supreme Court's deci­sion in United States v. Wind­sor, 133 S. Ct. 2675 (2013), has led many to believe that all is well in the advance­ment of LGBT rights.  Many courts across the coun­try have fol­lowed Wind­sor, which held the fed­eral Defense of Mar­riage Act (DOMA) uncon­sti­tu­tional, to inval­i­date state bans on same-sex mar­riage.  See, e.g., Bishop v. Smith, Nos. 14–5003, 14–5006, 2014 WL 3537847 (10th Cir. July 18, 2014); Bostic v. Schae­fer, Nos. 14–1167, 14–1169, 14–1173, 2014 WL 3702493 (4th Cir. July 28, 2014); Bren­ner v. Scott, Nos. 4:414cv107–RH/CAS, 4:14cv138–RH/CAS, 2014 WL 4113100 (N.D. Fla. August 21, 2014).  How­ever, LGBT dis­crim­i­na­tion con­tin­ues to be a sig­nif­i­cant prob­lem that may be inten­si­fy­ing. Embold­ened by the more recent Supreme Court deci­sion in Bur­well v. Hobby Lobby, 134 S. Ct. 2751 (2014), employ­ers are find­ing new ways to jus­tify LGBT dis­crim­i­na­tion, and some states—such as Mississippi—have even gone as far as to affir­ma­tively legal­ize this type of discrimination.
Dis­crim­i­na­tion against LGBT indi­vid­u­als is not hap­pen­ing only in places like Mis­sis­sippi; it is hap­pen­ing in Col­orado too. Take for exam­ple, the case of David Mullins and Char­lie Craig, who in 2012 were denied ser­vice at Mas­ter­piece Cakeshop while attempt­ing to order a cake to cel­e­brate their same-sex wed­ding (the wed­ding was to take place in Mass­a­chu­setts, where same-sex mar­riage is legal).  When Mr. Mullins went to Mas­ter­piece to pur­chase the cake, the owner of Mas­ter­piece refused to serve Mr. Mullins, stat­ing that, because of his reli­gious beliefs, it was Masterpiece's pol­icy to deny ser­vice to cus­tomers cel­e­brat­ing same-sex unions.
Mullins and Craig filed a charge with the Col­orado Civil Rights Divi­sion (CCRD), and the Col­orado Civil Rights Com­mis­sion (CCRC) issued a rul­ing that Mas­ter­piece vio­lated the pro­vi­sions of the Col­orado Anti-Discrimination Act (CADA) gov­ern­ing pub­lic accom­mo­da­tions, C.R.S. § 24–24-601. That law pro­hibits the refusal of  ser­vice based on pro­tected char­ac­ter­is­tics includ­ing race, sex, mar­i­tal sta­tus, and sex­ual ori­en­ta­tion. As part of its order, the CCRC required Mas­ter­piece to serve same-sex cou­ples and re-educate staff.  Mas­ter­piece recently appealed to the Col­orado Court of Appeals, argu­ing that adher­ing to CADA would infringe upon its First Amend­ment rights to free expres­sion and free exer­cise of religion.
First Amend­ment argu­ments like those made by Mas­ter­piece may be gain­ing more trac­tion after the Supreme Court's Hobby Lobby deci­sion. In that case, the United States Supreme Court ruled that cor­po­ra­tions are "per­sons" capa­ble of express­ing reli­gious beliefs, and a law that oper­ates to make the prac­tice of reli­gious beliefs more expen­sive imposes an imper­mis­si­ble bur­den on the exer­cise of that corporation's religion.
So-called reli­gious lib­erty leg­is­la­tion has been recently pro­posed in four­teen states, includ­ing a major­ity of the states within the Tenth Cir­cuit: Utah, Kansas, and Okla­homa. In April, Mis­sis­sippi signed into law the "Mis­sis­sippi Reli­gious Free­dom Restora­tion Act," which adds "In God We Trust" to the state seal and pro­vides that the gov­ern­ment can­not inter­fere with a person's exer­cise of religion—even if the exer­cise of one's reli­gion means dis­crim­i­nat­ing against gays and les­bians. In addi­tion to leg­is­la­tion autho­riz­ing LGBT dis­crim­i­na­tion, deci­sions like Hobby Lobby could pro­vide courts with jus­ti­fi­ca­tion to accept the argu­ment that "reli­gious lib­erty" should trump anti-discrimination laws, thus allow­ing LGBT-discriminatory busi­nesses (and indi­vid­u­als) to deny equal rights to LGBT com­mu­nity members.