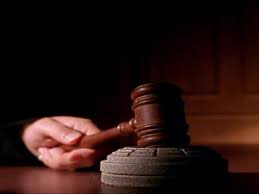 Judge Jane Triche Milazzo, a U.S. Dis­trict Judge for the East­ern Dis­trict of Louisiana, has sen­tenced a for­mer Sheriff's Deputy to 92 years in prison for offenses com­mit­ted while still a deputy.  For­mer Jef­fer­son Parish Sheriff's Deputy Mark Hebert was indicted in March on 60 counts related to the 2007 dis­ap­pear­ance of Albert Bloch.  For­mer Deputy Hebert was con­victed of Civil Rights vio­la­tions, Bank Fraud, and Aggra­vated Iden­tity Theft.  In addi­tion to his long prison sen­tence, For­mer Deputy Hebert was also ordered to pay over $13,000 in resti­tu­tion to the bank and the estate of the victim.
On August 2, 2007, Deputy Hebert responded to a traf­fic acci­dent involv­ing Mr. Bloch.  Hours after Mr. Bloch had been taken from the acci­dent site to the hos­pi­tal, fraud­u­lent pur­chases and with­drawals began appear­ing on his debit card.  Mr. Bloch reported the charges within about a week, but the fraud con­tin­ued for two months, includ­ing even after he received a replace­ment card.
The Dis­trict Court found that Deputy Hebert had stolen Bloch's debit card and other items when he responded to the acci­dent.  Deputy Hebert used Mr. Bloch's card to make thou­sands of dol­lars' worth of unau­tho­rized pur­chases and to with­draw funds from Mr. Bloch's bank account using ATMs.  Even after Mr. Bloch had reported the card stolen, Deputy Hebert con­tin­ued his fraud by nego­ti­at­ing checks drawn against Mr. Bloch's bank account.  Deputy Hebert even obtained a replace­ment debit card that was sent to Mr. Bloch and con­tin­ued to with­draw cash from ATMs using the stolen card.
Dur­ing the same period of time, Mr. Bloch mys­te­ri­ously dis­ap­peared.  He has never been found and is con­sid­ered deceased.  At an evi­den­tiary hear­ing in June 2014, Judge Milazzo ruled that For­mer Deputy Hebert was respon­si­ble for Mr. Bloch's death.  Although For­mer Dupty Hebert was not charged with the mur­der, Judge Milazzo con­sid­ered this find­ing when mak­ing her sen­tenc­ing deci­sion on the fraud and iden­tity theft charges.
U.S. Attor­ney Ken­neth A. Polite Jr. for the East­ern Dis­trict of Louisiana said, "The U.S. Attorney's Office and its law enforce­ment part­ners are deliv­er­ing the same mes­sage in a uni­fied voice: we will not tol­er­ate abuse of power and offi­cial posi­tion.  If you vio­late the pub­lic trust in South­east Louisiana, you will be held accountable."