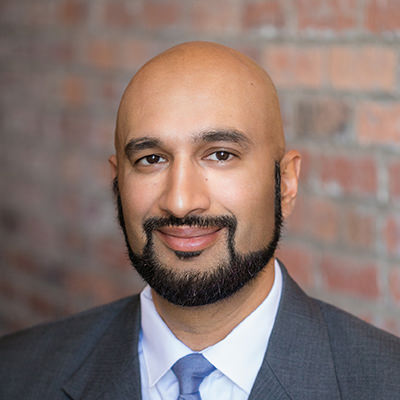 Phone: 303–578-4400
Fax: 303–578-4401

Mr. Mohamedb­hai is a part­ner at Rathod | Mohamedb­hai LLC.  His prac­tice is exclu­sively in the areas of plaintiff's employ­ment dis­crim­i­na­tion and con­sti­tu­tional civil rights lit­i­ga­tion.  He advo­cates for the rights of employ­ees in the work­place, and for the civil rights of all indi­vid­u­als against gov­ern­men­tal and insti­tu­tional abuses of power.
Mr. Mohamedb­hai fre­quently pub­lishes and aca­d­e­m­i­cally lec­tures on employ­ment law, civil rights, and trial skills. He is a National Insti­tute for Trial Advo­cacy fac­ulty mem­ber from 2012 to present. He is an adjunct fac­ulty mem­ber teach­ing con­sti­tu­tional lit­i­ga­tion at the Uni­ver­sity of Den­ver Sturm Col­lege of Law and Employ­ment Law at Metro State Uni­ver­sity. He is the legal adviser to the Mex­i­can gov­ern­ment on issues of civil rights and employ­ment dis­crim­i­na­tion affect­ing its nation­als within the Col­orado and Wyoming. 
Mr. Mohamedb­hai was awarded the dis­tinc­tion of being a 2017 Lawyer of the Year by Law Week Col­orado. Mr. Mohamedb­hai was rec­og­nized as a Col­orado Top 100 "Super Lawyer" in the area of Plaintiff's employ­ment lit­i­ga­tion in 2016 — 2019 (fea­tured on the cover of the Super Lawyers' mag­a­zine in 2016). Since 2015, he has been rec­og­nized by Best Lawyers® for his work rep­re­sent­ing employees.
He is a three time recip­i­ent of the CTLA's Case of the Year, in 2013, 2014, and 2016. He was awarded the Amer­i­can Asso­ci­a­tion for Jus­tice Leonard Wein­glass in Defense of Civil Lib­er­ties Award, rec­og­nized four times by 5280 Mag­a­zine as a top Den­ver attor­ney in civil rights, four time recip­i­ent of the Best Employ­ment Lawyer for Plain­tiffs by Law Week Col­orado, and the recip­i­ent of the 2015 Richard Mar­den Davis Award. He has been awarded the high­est ser­vice and civil rights recog­ni­tion by com­mu­nity orga­ni­za­tions such as One Col­orado, the Col­orado LGBT Bar Asso­ci­a­tion, Colorado's Sam Cary Bar Asso­ci­a­tion, Newsed, New Leader's Coun­cil, Fire­fly Autism, and the Anti-Defamation League.
Edu­ca­tion
Uni­ver­sity of Wyoming, Col­lege of Law, Laramie, Wyoming, Juris Doc­tor­ate, 2003
Uni­ver­sity of Alberta, Bach­e­lor of Sci­ence, Biol­ogy, 2000
Bar Admis­sions
Col­orado
Wyoming
U.S. Dis­trict Court Dis­trict of Colorado
U.S. Dis­trict Court Dis­trict of Wyoming
U.S. Court of Appeals 10th Circuit
Notable Jury Ver­dicts
&

Settlements
Con­fi­den­tial Minors v. Cherry Creek School Dis­trict (edu­ca­tion), $11.5 Million
Wil­son v. Jonathan Paul­ing et al. (employ­ment dis­crim­i­na­tion), $3.9 Million
Shiva Rai v. St. Vrain Val­ley School Dis­trict (edu­ca­tion), $3.85 Million
Jamaal Hunter v. Den­ver Sheriff's Depart­ment (jail con­di­tions), $3.25 Million
Naeschy­lus Carter-Vinzant v. Aurora Police Depart­ment (exces­sive force), $2.85 Million
138 Somali-Muslim Employ­ees v. Meat Pack­ing Plant

&

Union (employ­ment dis­crim­i­na­tion), $1.65 Million
Jes­sica Her­nan­dez v. Den­ver Police Depart­ment (exces­sive force), $1 Million
Bal­tazar et al. v. Vail Run Resorts (employ­ment dis­crim­i­na­tion), $1 Million
Estate of Ran­dall Veach v. Rawl­ins Police Depart­ment (exces­sive force), $925,000
Susan Chan­dler v. Adams 14 School Dis­trict (employ­ment dis­crim­i­na­tion), $700,000
Cald­well

&

Khans v. Gatchis (pub­lic accom­mo­da­tion), $675,000
Araujo et al. v. City of Fort Collins (employ­ment dis­crim­i­na­tion), $425,000
Ortega et al. Den­ver Police Depart­ment (exces­sive force), $360,000
Guzzo et al. v. State of Wyoming  (mar­riage equal­ity con­sti­tu­tional challenge)
Hon­ors and Awards
Anti-Defamation League (Moun­tain States) — Civil Rights Award, 2019
Sam Cary Bar Asso­ci­a­tion — War­rior for Jus­tice, 2018
Children's Civil Rights Advo­cate of the Year — Fire­fly Autism, 2018
Lawyer of the Year — Law Week Col­orado, 2017
Newsed — Civil Rights Hon­oree, 2017
One Col­orado — Ally of Year, 2017
Col­orado

LGBT

Bar Asso­ci­a­tion — Ally of the Year, 2017
New Lead­ers Coun­cil — Hero of the Year, 2017
Richard Mar­den Davis Award, 2015
5280 Mag­a­zine, Top Lawyer Civil Rights, 2015–2018
Law Week Col­orado — Best Employ­ment Lawyer for Plain­tiffs, 2015–2018
Super Lawyers — Plaintiff's Employ­ment Law, 2014–2019
Super Lawyers — Top 100 Attor­neys in Col­orado, 2016–2019
Best Lawyers® - Employ­ment Law Indi­vid­u­als, 2016–2018
Legal Adviser — Gov­ern­ment of Mex­ico (Abo­gado Con­sul­tor), 2015-present
Amer­i­can Asso­ci­a­tion of Jus­tice — Leonard Wein­glass in Defense of Civil Lib­er­ties Award, 2015
Col­orado Trial Lawyers Asso­ci­a­tion  (

CTLA

) Case of the Year — Bal­tazar et al. v. Vail Run Resorts, 2016
Col­orado Trial Lawyers Asso­ci­a­tion (

CTLA

) Case of the Year — Jamal Hunter v. Den­ver, 2014
Col­orado Trial Lawyers Asso­ci­a­tion (

CTLA

) Case of the Year — Den­ver Diner, 2013
Pub­li­ca­tions
The Col­orado Anti-Discrimination Act, Chap­ter Update, Practitioner's Guide to Employ­ment Law, Col­orado Bar Asso­ci­a­tion (Jan­u­ary 2018)
Echoes of His­tory in Don­ald Trump's Stance on Mus­lims, Den­ver Post Op-Ed, (March 5, 2016)
Munic­i­pal Lia­bil­ity: Strate­gies, Cri­tiques, and a Path­way For­ward Toward Effec­tive Enforce­ment of Civil Rights (

DU

Law Review, Vol­ume 91, Issue 3)
Reli­gious Minori­ties Need Not Apply: Legal Impli­ca­tions of Faith-Based Employ­ment Adver­tis­ing, 43 The Col­orado Lawyer 27 (April 2014)
Aca­d­e­mic Lecturing
Lit­i­gat­ing Dis­crim­i­na­tion Claims in State Court

CLE

, Col­orado Trial Lawyers Asso­ci­a­tion, 2019
The Big Pic­ture: Han­dling the Nuts and Bolts While Keep­ing Your Goals and Strat­egy in Mind

CLE

, Col­orado Bar Asso­ci­a­tion, 2019
Trial Skills, Coun­cil on American-Islamic Rela­tions (

CAIR

), National Civil Rights Con­fer­ence, 2018
Mutual Respect Between Bench

&

Bar, Col­orado Judi­cial Con­fer­ence, 2017

&

 2018
Sec. 1983 Based Employ­ment Lit­i­ga­tion

CLE

, Col­orado Bar Asso­ci­a­tion Labor

&

Employ­ment Con­fer­ence, 2018
How to Use Depo­si­tion Tes­ti­mony for Medi­a­tion and Set­tle­ment,

AAJ

Annual Con­ven­tion, 2018
Racial Bias in Polic­ing, 9News, 2018
Work­place Sex­ual Mis­con­duct Task Force, Boul­der County Dis­trict Attorney's Office, 2018
Implicit Bias — Inclu­sive­ness

&

Diver­sity Sum­mit, Cen­ter for Legal Inclu­sive­ness, 2018
Har­vey Wein­stein Goes to Court! Eval­u­at­ing a Sex­ual Harass­ment Claim, Laramie County Bar Asso­ci­a­tion, 2018
Pro­bate: Approval of Set­tle­ment,

CTLA

, 2018
Main­tain­ing the Rule of Law

CLE

, Col­orado Bar Asso­ci­a­tion, 2017
El Paso Bar Asso­ci­a­tion – Law Day / 14th Amend­ment, 2017
Employ­ment Law Metro State Uni­ver­sity, Spring Semes­ter 2016
Hot Top­ics in Employ­ment Lit­i­ga­tion

CLE

, Col­orado Bar Asso­ci­a­tion, 2016
Use of Elec­tronic Evi­dence in the Employ­ment Law Case

CLE

, Col­orado Bar Asso­ci­a­tion, 2016
Free­dom of Reli­gion Sym­po­sium, Uni­ver­sity of Den­ver School of Law, 2016
Nav­i­gat­ing Colorado's Legal Sys­tem, Col­orado Advo­cacy in Action Con­fer­ence, 2016
Client Warts and All,

CTLA

Block­buster, 2016
Con­sti­tu­tional Lit­i­ga­tion, Uni­ver­sity of Den­ver Sturm Col­lege of Law, Spring Semes­ter 2015
The Inter­sec­tion Between Sex­ual Assault and Undoc­u­mented Work­ers,

MESA

, 2015
Cat's Paw The­ory of Employ­ment Dis­crim­i­na­tion

CLE

, Col­orado Bar Asso­ci­a­tion, 2015
The Nuts and Bolts of Writ­ten Dis­cov­ery in Employ­ment Cases

CLE

,

CTLA

, 2015
Rep­re­sent­ing Vic­tims of Sex­ual Assault and Harass­ment, Col­orado Women's Bar Asso­ci­a­tion, 2015
Tak­ing a

CCRD

Prob­a­ble Cause Find­ing to the

ALJ

CLE

, Col­orado Plain­tiff Lawyers Asso­ci­a­tion, 2014
Employ­ment Law for the Per­sonal Injury and Med­ical Mal­prac­tice Attor­ney: Issue Spot­ting and Avoid­ing Pit­fall

CLE

,

CTLA

, 2014
Hang­ing Your Own Shin­gle

CLE

,  Col­orado Bar Asso­ci­a­tion, 2012–2017
Work­place Pri­vacy

CLE

, Col­orado Bar Asso­ci­a­tion, 2014
Work­place Dis­crim­i­na­tion

CLE

, Pro­gram Chair, Col­orado Bar Asso­ci­a­tion, 2014
Nuts and Bolts of the

CADA

Reme­dies Bill

CLE

, Col­orado Trial Lawyers Asso­ci­a­tion, 2013
Stock Options: Pit­falls and Con­sid­er­a­tions to your Employ­ment Prac­tice

CLE

, Col­orado Bar Asso­ci­a­tion, 2013

EEOC

's Sys­temic Ini­tia­tive, Ogle­tree Deakins Annual Employ­ment Law Sem­i­nar, 2013
Defend­ing Your Case with the First Amend­ment

CLE

, Col­orado Pub­lic Defend­ers Office Annual Con­fer­ence, 2013
Employ­ment Law Dis­cov­ery

&

Evi­den­tiary Issues

CLE

, Col­orado Trial Lawyers Asso­ci­a­tion, 2013
Stereo­typ­ing in Employ­ment Dis­crim­i­na­tion

CLE

, Col­orado Bar Asso­ci­a­tion, 2013
Employ­ment Issues in Work­ers' Com­pen­sa­tion Cases

CLE

, Col­orado Bar Asso­ci­a­tion , 2013
§ 1983 is Not the Intro­duc­tion to an Orwell Novel

CLE

, Col­orado Crim­i­nal Defense Bar, 2012
Civil Rights for the Crim­i­nal Defense Attor­ney, Col­orado Pub­lic Defender's Adams Office, 2012
Under­stand­ing Civil Rights, Col­orado Pro­gres­sive Coali­tion, 2012
Build­ing Your Case With the Bill of Rights

CLE

, Fed­eral Prac­tice Series, 2012
See the For­est and the Trees When Eval­u­at­ing an Employ­ment Dis­crim­i­na­tion Case

CLE

, Wyoming Bar Asso­ci­a­tion Annual State Bar/Judicial Con­fer­ence, 2012
Suc­cess­fully Nav­i­gat­ing the Crim­i­nal Jus­tice Sys­tem as Plaintiff's Employ­ment Attor­neys, Rep­re­sent­ing the Victim/Witness of a Crime

CLE

,

PELA

, 2012
Sum­mer Trial Insti­tute, Fac­ulty Lec­turer (August 2012

&

2011), Uni­ver­sity of Wyoming School of Law
Reli­gious Rights in the Work­place

CLE

, Col­orado Bar Asso­ci­a­tion, 2012
Civil Rights for the Crim­i­nal Defense Attor­ney, Col­orado Pub­lic Defender's Den­ver Office, 2012
Fac­ulty: Trial Skills, National Insti­tute for Trial Advo­cacy, 2012
10 Do's and Dont's of Start­ing a Law Firm

CLE

, Col­orado Bar Asso­ci­a­tion, 2012
Con­sti­tu­tional Lit­i­ga­tion, Uni­ver­sity of Den­ver Law School, 2012
Employ­ment Dis­crim­i­na­tion, Guest Speaker, Den­ver Islamic Soci­ety, 2011
Mus­lims and Law Enforce­ment, Col­orado Mus­lim Soci­ety, 2010
First Amend­ment in Employ­ment

CLE

, Ster­ling Edu­ca­tion Ser­vices, Cheyenne, Wyoming, 2010
Pan­elist, First Amend­ment and Aca­d­e­mic Free­dom, Uni­ver­sity of Wyoming, Laramie, Wyoming, 2010
Pro­fes­sional Asso­ci­a­tions and Memberships
National Insti­tute for Trial Advo­cacy Fac­ulty, 2012-Present
Metro State Uni­ver­sity — Affil­i­ate Fac­ulty, 2016

&

 2019
Uni­ver­sity of Den­ver Sturm Col­lege of Law — Adjunct Fac­ulty Mem­ber, 2015

CLE

of the Col­orado Bar Asso­ci­a­tion, Vice Pres­i­dent

&

Board Mem­ber, 2015 — Present
Civil Rights Edu­ca­tion and Enforce­ment Cen­ter, Lit­i­ga­tion Com­mit­tee, 2016-Present
Col­orado Bar Asso­ci­a­tion, 2004 — Present
Wyoming Bar Asso­ci­a­tion, 2004 — Present
Den­ver Bar Asso­ci­a­tion, 2004 — Present
Plain­tiff Employ­ment Lawyer's Asso­ci­a­tion, 2008 — 2018
Plain­tiff Employ­ment Lawyer's Asso­ci­a­tion, Board Mem­ber, 2013 — 2018
Col­orado Trial Lawyers Asso­ci­a­tion, Employ­ment Law Co-Chair, 2012–2016
Amer­i­can Asso­ci­a­tion for Jus­tice (2018)
The National Asso­ci­a­tion for the Advance­ment of Col­ored Peo­ple, 2011 — Present
Rep­re­sen­ta­tive Cases
The Estate of Robert "Gary" Black, Jr. v. The City of Aurora (Police Shooting)(2018)
R.S. v. Allied Secu­rity (Exces­sive Force)(2018)
Five Minors v. Cherry Creek School Dis­trict, (Sex­ual Assault at School) (2018)
Khan et al. v. Gatchis, 2018cv30797, (Mus­lim Dis­crim­i­na­tion) (2018)
Estate of Roberto Andres Flores-Prieto v. Allante Prop­er­ties, et al. (Wrong­ful Death) (2018)
Estate of Patrick Har­mon v. Salt Lake City Police Depart­ment (Police Vio­lence Caus­ing Death) (2017)
East High School Cheer­lead­ers v. Den­ver Pub­lic Schools (Edu­ca­tion Law) (2017)
130 Somali Mus­lim Employ­ees v. Cargill (Employ­ment Dis­crim­i­na­tion) (2017)
Shiva Rai v. St. Vrain Val­ley School Dis­trict (Edu­ca­tion Law) (2017)
Jes­sica Her­nan­dez v. The City and County of Den­ver (Police Shoot­ing) (2017)
Araujo et al. v. Fort Collins Police Depart­ment, 16-cv-00966 (Race Dis­crim­i­na­tion) (2017)
Askin v. City and County of Den­ver, 16-cv-01007 (Exces­sive Force) (2016)
Naeschy­lus Carter-Vinzant v. Aurora (Exces­sive Force) (2016)

EEOC

, et al. v. Vail Run Resorts, et al., 15-cv-1592 (Sex­ual Harass­ment; Gen­der, National Ori­gin,

&

Alien­age Dis­crim­i­na­tion) (2015)
Courage, et al. v. State of Wyoming, et al., Civil Action No. 182–262 (Mar­riage Equal­ity) (2014)
Shelli Robins v. Adams 14 School Dis­trict, 2014cv01794-WYD-KMT (Gen­der Dis­crim­i­na­tion) (2014)
Wil­son v. Paul­ing Man­age­ment Co et al, 2013cv035298, (Employ­ment Dis­crim­i­na­tion) (2014)
Hart v.

VK

Invest­ment Group,

LLC

, 13cv02301 (Hous­ing Dis­crim­i­na­tion) (2014)
Mor­gan et al. v. Col­orado Depart­ment of Cor­rec­tions et al., 12-cv-0936 (Pris­oner Civil Rights) (2012)
Hunter v. City and County of Den­ver et al., 2012cv5623 (Pris­oner Civil Rights) (2012)
Blake v. Bradsby Group, 2011cv8197 (Sex­ual Harass­ment and Retal­i­a­tion) (2011)
Ortega et al. v. City and County of Den­veret al.,

11CV02394-WJM-CBS

(Police Bru­tal­ity and Gov­ern­men­tal Lia­bil­ity) (2011)
Perry v. Red Peak et al.,

11CV01900-WYD-CBS

(Fair Hous­ing Act Dis­abil­ity Dis­crim­i­na­tion) (2011)
Car­son v. Cen­tura Health Cor­po­ra­tion et al.,

11CV02753-RPM-KLM

(Title

VII

Race Dis­crim­i­na­tion and Retal­i­a­tion) (2011)
Blake v. 23

LTD

et al.,

11CV8197

(Title

VII

Gen­der Dis­crim­i­na­tion and Retal­i­a­tion) (2011)
Mar­tinez et al. v. City and County of Den­ver et al., 11-cv-00102-MSK –

KLM

(Home Inva­sion and Exces­sive Force Against Den­ver Police Offi­cers) (2011)
Shroff v. City and County of Den­ver et al., 604 F.3d 1179 (10th Cir. 2010) (False Arrest and Vio­la­tion of Bod­ily Integrity against Den­ver Police Offi­cer) (2010)
Rehberg v. City of Pueblo et al., 10-cv-00261-LTB-KLM (Exces­sive Force and Unlaw­ful Entry) (2010)
Ayers v. Uni­ver­sity of Wyoming, 10-cv-00079-WFD (First Amend­ment Retal­i­a­tion) (2010)
Moore v. City and County of Den­ver et al., 10-cv-00651-JLK –

MJW

(Exces­sive Force and False Arrest) (2010)
Duran v. City

&

County of Den­ver et al., No. 10-cv-01569-REB-KMT (Exces­sive Force) (2010)
Stevens v.

DHS

Drilling Com­pany, 10-cv-01759-WJM –

MEH

(Race Dis­crim­i­na­tion in Employ­ment) (2010)
Hardy v. Proc­ter

&

Gam­ble Com­pany, 10-cv-01867-MSK –

MEH

(Dis­abil­ity Dis­crim­i­na­tion in Employ­ment) (2010)
Graber v. City

&

County of Den­ver et al., 09-cv-01029-JLK-MJW (Exces­sive Force and False Arrest) (2009)
Hall, Aragon, Jor­dan, Apple­berry,

&

Arnall v. Adams County, No. 09-cv-02836-WYD-BNB (Sex­ual Harass­ment, Retal­i­a­tion, and/or First Amend­ment Retaliation)
Tru­jillo v. City of Lake­wood, No. 08-cv-00149-WDM-CBS (Exces­sive Force and K-9) (2008)
Lobato v. Rio Grande Sheriff's Office, No. 08-cv-01192-LTB-MEH (Exces­sive Force and First Amend­ment Retal­i­a­tion) (2008)
McGuire-Mann v. Naked Juice Com­pany, 2008 Arbi­tra­tion, (Sex­ual Harass­ment in Employ­ment) (2008)
Perry v. The City of Aurora at al., 07-cv-00901-REB-MJW (Exces­sive Force) (2007)
Rice v. Poudre Val­ley Health, 2007cv334 (Wrong­ful Dis­charge in Vio­la­tion of Pub­lic Pol­icy) (2007)
Chavez et al v. Fitzsi­mons Com­mu­nity Fed­eral Credit Union, 07-cv-01529 (Race Dis­crim­i­na­tion in Employ­ment) (2007)
Echegaray v. Rygiel's Obstet­rics, 2007cv3693 (Preg­nancy Dis­crim­i­na­tion in Employ­ment) (2007)
Churchill v. Uni­ver­sity of Col­orado,

2006CV11473

(First Amend­ment Retal­i­a­tion in Employ­ment) (2006)
O'Neil v. West Cheyenne Fire Prot. Dist., 05-cv-02173-RPM (Exces­sive Force and Unlaw­ful Entry) (2005)
Pro Bono Activities
Gen­eral Coun­sel — Col­orado Mus­lim Soci­ety (2011-Present)
Ser­vi­cios de La Raza, Vice Pres­i­dent

&

Board Mem­ber, 2011 — 2017
Kahn Fam­ily 2013
John Copeland 2013
Occupy Den­ver – Legal Train­ing, 2012
Propo­si­tion 8 / Gay Rights Rep­re­sen­ta­tion of Pro­test­ers, 2009
Demo­c­ra­tic National Con­ven­tion Rep­re­sen­ta­tion of Pro­test­ers, 2008
Colum­bus Day Rep­re­sen­ta­tion of Pro­test­ers, 2007