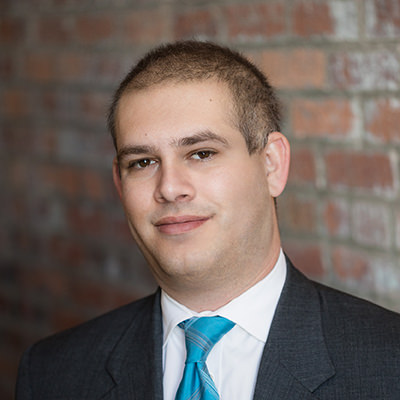 Phone: 303–578-4400
Fax: 303–578-4401
Matthew Cron is a part­ner at Rathod Mohamedb­hai LLC, whose prac­tice focuses on civil rights and employ­ment dis­crim­ci­na­tion lit­i­ga­tion. Mr. Cron is priv­i­leged to rep­re­sent indi­vid­u­als who have been denied their con­sti­tu­tional rights or faced dis­crim­i­na­tion in the work­place. Mr. Cron fre­quently pub­lishes and lec­tures on mat­ters relat­ing to employ­ment law and civil rights, and he has been rec­og­nized as a "Ris­ing Star" by Super Lawyers since 2016. Mr. Cron has also received the Col­orado Trial Lawyer's Asso­ci­a­tion Case of the Year award in 2014 and the Amer­i­can Asso­ci­a­tion for Jus­tice Leonard Wein­glass in Defense of Civil Lib­er­ties Award.
Mr. Cron is a for­mer Chair­per­son of the Col­orado Bar Association's Civil Rights Sec­tion, and he cur­rently serves the Sec­tion as a Board Mem­ber. Mr. Cron also serves on the ACLU of Colorado's Speaker Bureau and as a men­tor for Law School Si Si Puede, a men­tor­ing pro­gram for stu­dents from groups that are tra­di­tion­ally unrep­re­sented in the law.
Prior to join­ing Rathod Mohamedb­hai LLC, Mr. Cron was a two-year law clerk for the Hon­or­able Chris­tine M. Arguello on the United States Dis­trict Court for the Dis­trict of Col­orado. Mr. Cron is a grad­u­ate of Colum­bia Uni­ver­sity Law School where he twice received the Har­lan Fiske Stone Scholar award.
Edu­ca­tion
Colum­bia Uni­ver­sity School of Law, New York, New York, Juris Doc­tor­ate, 2010
Wes­leyan Uni­ver­sity, Mid­dle­town, Con­necti­cut, Bachelor's Degree, 2005
Notable Set­tle­ments & Verdicts
Shiva Rai v. St. Vrain Val­ley School Dis­trict (2017) (edu­ca­tion dis­crim­i­na­tion result­ing in $3.85 Mil­lion settlement)
Estate of Jack. J. Jacquez v. City of Rocky Ford, et al., 16-cv-2519 (D. Colo. 2016) (deadly force case result­ing in set­tle­ment of $1.3 Million)
Naeschy­lus Carter-Vinzant v. Aurora Police Depart­ment (2016) (deadly force case result­ing in $2.85 Mil­lion set­tle­ment and broad pol­icy changes)
Krantz v. Dulacki, 2014cv34756 (Den. Dist. Ct. 2015) (brought claim under Col­orado Crim­i­nal Jus­tice Records Act, secur­ing attor­ney fee award of $40,111 after find­ing that denial of records was "arbi­trary and capricious")
Wil­son v. Jonathan Paul­ing, et al., 2013cv035298 (Den. Dist. Ct.) (2014) (employ­ment dis­crim­i­na­tion result­ing in jury ver­dict of $3.9 Million)
Hunter v. City

&

County of Den­ver, et al., 12cv5623 (D. Colo. 2014) (jail abuse case that resulted in set­tle­ment of $3.25 Mil­lion and sig­nif­i­cant pol­icy changes)
Hart v.

VK

Invest­ment Group,

LLC

, et al, 13cv02301 (D. Colo. 2014) (Fair Hous­ing Act claim that resulted in set­tle­ment of $97,000)
Green-Tillman v. Head to Toe, Inc.,

2013CV31094

(Adams Dist. Ct. 2014) (secured judg­ment of $200,000 for false impris­on­ment claim. Sub­se­quently received total judg­ment of $242,222 on claim against insur­ance com­pany, and helped suc­cess­fully defend mul­ti­ple appeals by insur­ance company)
Peo­ple v. Sain,

13CR00988

(Den. Dist. Ct. 2013) (dis­missal of charges for attempt to influ­ence a pub­lic ser­vant and harass­ment – eth­nic intimidation)
Areas of Practice
Employ­ment Law
Civil Rights
Crim­i­nal Defense
Bar Admis­sions
Pub­li­ca­tions
Munic­i­pal Lia­bil­ity: Strate­gies, Cri­tiques, and a Path­way Toward Effec­tive Enforce­ment of Civil Rights (

DU

Law Review, Vol­ume 91, Issue 3)
Reli­gious Minori­ties Need Not Apply: Legal Impli­ca­tions of Faith-Based Employ­ment Adver­tis­ing, 43 The Col­orado Lawyer 27 (April 2014)
Speak­ing Engagements
The Fair Hous­ing Act and Other Anti-Discrimination Mea­sures in Hous­ing: A Focus on Assis­tance Ani­mal Lit­i­ga­tion

CLE

, Col­orado Bar Asso­ci­a­tion, 2017
Prac­tic­ing Civil Rights Law: Per­spec­tives from Young Civil Rights Lawyers

CLE

, Den­ver Bar Asso­ci­a­tion, Young Lawyers Divi­sion, 2017
Crim­i­nal Process (Guest Lec­turer), Uni­ver­sity of Den­ver, 2016–17
Con­sti­tu­tional Lit­i­ga­tion (Guest Lec­turer), Uni­ver­sity of Den­ver Sturm Col­lege of Law, 2015
Rep­re­sen­ta­tive Cases
Estate of Patrick Har­mon v. Salt Lake City Police Depart­ment (exces­sive deadly force) (2017)
East High School Cheer­lead­ers v. Den­ver Pub­lic Schools (edu­ca­tion) (2017)
Bohm v. Medix Staffing Solu­tions, No. 17-cv-02490 (D. Colo. 2017) (jury retaliation)
Brown v. Beau Jo's Man­age­ment Co., No. 17-cv-01862 (D. Colo. 2017) (employment)
McFad­den et al., v. Meeker Hous­ing Auth., et al., No. 16-cv-02304 (D. Colo. 2016) (Fair Hous­ing Act)
MacArthur v. Aspen View Condo. Ass'n, Inc., No. 15-cv-1430 (D. Colo. 2015) (Fair Hous­ing Act)
Las­nik v. Offi­cer Mark Mag­ness, No. 15-cv-02662 (D. Colo. 2015) (rep­re­sented indi­vid­ual on exces­sive force claims against police offi­cers and police department)
Estate of Tanya Mar­tinez v. Cor­rec­tional Health­care Com­pa­nies, et al., No. 15-cv-01140 (D. Colo. 2015) (Eighth Amend­ment and neg­li­gence claims against pri­vate health­care company)
McEach­ern v. Bd. of Cnty. Comm'rs of the County of Mon­tezuma, No. 15-cv-00556 (D. Colo. 2015) (rep­re­sented Sheriff's deputy on employ­ment dis­crim­i­na­tion and retal­i­a­tion claims)
Aldrich v. Indus­trial Cool­ing Solu­tions, et al., No. 14-cv-03206 (D. Colo. 2014) (rep­re­sented exec­u­tive on mul­ti­ple claims includ­ing breach of con­tract and wrong­ful ter­mi­na­tion in vio­la­tion of pub­lic policy